TWO RIVERS TIMBER CO.,INC.

BUYERS OF QUALITY LOGS AND STANDING TIMBER;

MANUFACTURERS OF NORTHERN APPALACHIAN LOG

HEADQUARTER'S LOCATION:
MAIN OFFICE
7778 ST. ROUTE 417
ADDISON, NY 14801

KEVIN CHILSON, (PRESIDENT/OWNER)

(607) 359-2201 (OFFICE)
(607) 359-2231 (FAX)
Info@TwoRiversTimber.com &nbsp (Email)


***LUMBER***

TWO RIVERS TIMBER CO., INC. SPECIALIZES IN APPALACHIAN HARDWOOD LUMBER (GREEN) & KILN DRIED 4/4 THRU 8/4. Click Here for view our Inventory

Currently we operate (2) two circle mills and (2) two band resaw mills near Addison, NY that cut mostly Appalachian RED OAK, WHILE OAK, and HARD MAPLE lumber and other species upon request.&nbsp Thicknesses of 4/4 through 10/4 in random lengths & widths.&nbsp Two Rivers Timber Co., can provide trucking since we currently own and operate (8) eight trucks and (14) flatbeds.&nbsp FOR FAST EFFICIENT SERVICE, CALL TWO RIVERS TIMBER CO., INC.

Our hardwood sawmill manufacturing can produce 30,000 feet daily.&nbsp We ship lumber to Canada and Northeast as well as the Southern markets.&nbsp We would appreciate any inquiries for orders!!&nbsp Contact Two Rivers Timber Co., Inc. for Quality Hardwood Lumber.
Click to view large photo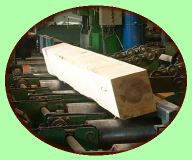 Fast, friendly customer service representatives are just a phone call away!