TWO RIVERS TIMBER CO.,INC.

BUYERS OF QUALITY LOGS AND STANDING TIMBER;

MANUFACTURERS OF NORTHERN APPALACHIAN LOG

HEADQUARTER'S LOCATION:
MAIN OFFICE
7778 ST. ROUTE 417
ADDISON, NY 14801

KEVIN CHILSON, (PRESIDENT/OWNER)

(607) 359-2201 (OFFICE)
(607) 359-2231 (FAX)
Info@TwoRiversTimber.com &nbsp (Email)


***EXPORTING***

SPECIALIZING IN EXPORT QUALITY HARDWOOD VENEER LOGS AND SAW LOGS...
From the State of PENNSYLVANIA AND NEW YORK.

For you, we have many species of logs available such as: RED OAK, WHITE OAK, HARD MAPLE, CHERRY, AND WHITE ASH AND OTHERS UPON REQUEST.&nbsp We containerize and railcar logs to our customers.&nbsp (At their request) You'll doing business with us because we offer quality logs at fair prices and our service is GREAT.&nbsp TWO RIVERS TIMBER CO., INC. can provide trucking of logs since we currently own and operate (8) eight trucks and (14) fourteen flatbeds.

Our log concentration yard is in an excellent location, located in New York on Route 417 (1) one mile West of Addison for easy access for trucks.

WHEN YOU NEED TOP OF THE LINE QUALITY LOGS, CONTACT US!!!
Click to view large photo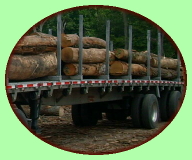 Fast, friendly customer service representatives are just a phone call away!